In the continuously evolving and sometimes volatile economic times, investors have to make tough decisions. To ensure they are making the best possible decisions they require greater insights into activities within portfolios. Whether it's sustainability practices, gender and cultural diversity, or executive compensation and remuneration, Glass Lewis has experienced, first-hand, the increasing demand for additional information from their investor clients.
CHALLENGE
Glass Lewis had a vision to create the next generation version of their quantitative pay and peer analysis, which they include in their Proxy Papers for annual shareholder meetings. Their approach to proxy advising focuses on providing investor clients with independent, in-depth analysis that looks at each company on a case-by-case basis. When it comes to executive pay, regardless of the company's size or sector, Glass Lewis' methodology requires a contextual assessment incorporating two consistent peer comparisons: one against similarly sized peers in the same country, and the other against a wider geographic pool of companies in the same industry.
Prior to the partnership with CGLytics, Glass Lewis' analysis of the relationship between executive pay and performance within the European market was limited by the quantitative pay and peer tools they had available. With their client investors expecting increasingly detailed evaluations of an
ever-wider pool of companies, Glass Lewis realized that achieving their vision would require tools that provide:
• Greater flexibility to model unique peer groups;
• An ability to view CEO pay comparisons over different time periods that appropriately reflect a company's business cycle or performance period;
• Comparisons incorporating a larger range of key performance indicators and remuneration metrics, allowing deep-dives into individual pay practices;
• Flexibility to consider and make comparisons between grant-date, target and realized pay over different time periods; and
• The ability to model differences in pay outcomes based on any changes contemplated to the remuneration framework or metrics.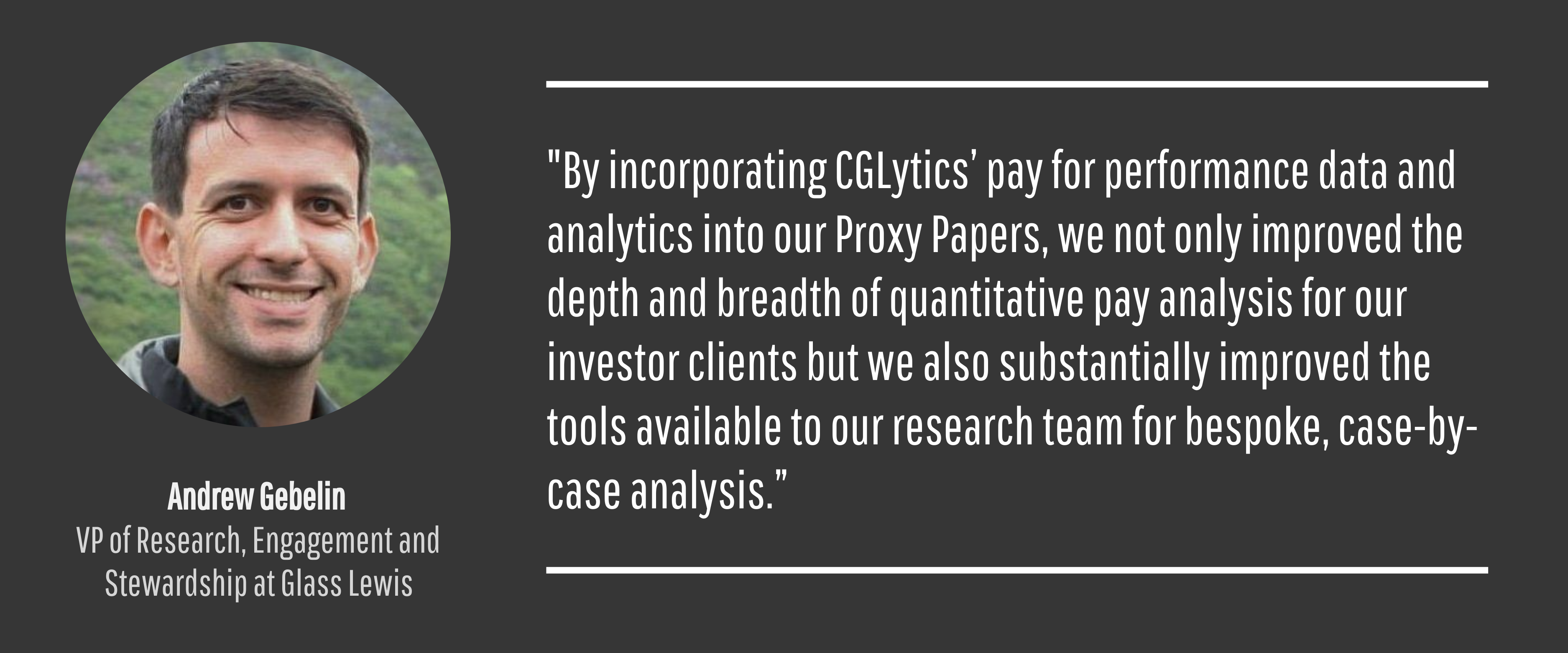 APPROACH
For the 2018 proxy season Glass Lewis integrated CGLytics data and analytics into their analytical processes and Proxy Papers for the European markets.
Working with CGLytics, Glass Lewis defined a new peer group methodology focused around two distinct comparator groups:cross-border industry groups, and in-country groups based on company size. These peer groups were proofed and refined with CGLytics' support to ensure they provide an appropriate basis of comparison. Glass Lewis analysts then incorporated key metrics from CGLytics' rich library of performance data, displayed against three years of realized pay to allow for a balanced assessment over the longer term.
CGLytics' platform allowed Glass Lewis to provide their clients with a standardized approach to pay analytics across Europe, while retaining flexibility to account for market-, company- or plan-specific features. The performance metrics included in the Proxy Paper analysis were chosen for the greatest possible consistency across all European listed companies, providing a common point of comparison regardless of market or sector. That said, not all companies (or pay plans) are alike. Where unique circumstances require bespoke pay analytics using different indicators or uniquely designed peer groups, access to the CGLytics SaaS platform allows Glass Lewis analysts to drilldown and perform a multitude of quantitative  comparisons and tests.
With the new peer group methodology in place, CGLytics helped Glass Lewis develop a graphical layout that illustrates the relationship between pay and performance. The new Remuneration Analysis section within the Proxy Paper
incorporates peer comparisons and a breakdown of remuneration components to present a comprehensive picture, allowing investors to assess pay outcomes on both a relative and absolute basis.
SUCCESS
Incorporating CGLytics compensation data and analytics into Glass Lewis' Proxy Paper and voting recommendations has yielded overwhelmingly positive feedback from investor clients and from companies.
By implementing a standardized display that allows every company to be compared on a like-for-like basis, while retaining the flexibility to utilize an array of customized key performance metrics, CGLytics and Glass Lewis developed the tools to produce quantitative pay analysis and peer comparisons that are second-to-none. Investors appreciate the easy access to CGLytics rich data and powerful tools, yielding valuable remuneration insights whether they are comparing the entire market or diving deep into a single pay plan. For the companies that Glass Lewis covers, the use of bespoke peer groups and the sheer range of options that can be customized provide reassurance that their company's pay policies will be assessed appropriately.
BENEFITS OF IMPLEMENTING CGLYTICS' DATA AND ANALYTICS
• Analysts can access 10+ years of historical compensation data
Glass Lewis analysts are able to both view historical pay practices over an extended horizon, and model the anticipated future impact of new pay policies.
• Comparison of pay practices on a like-for-like basis
Standardized display options for every company across Europe supports greater consistency when comparing pay practices across industries and regions.
• Greater flexibility to analyze information beyond Proxy Papers
Analysts can now use CGLytics SaaS platform to look at specific remuneration components and factors outside of the standard information displayed in Proxy Papers.
• Expanded European market coverage
Glass Lewis expanded their European market with additional indexes and 200+ companies to cover more than 1,100 companies.
• 50% time-savings when generating quantitative pay analysis
Using graphical templates and standardized data, analysts were able to complete the
quantatitive pay component of the Proxy Paper in half the time compared to prior years.
• Empowered investor clients to customize their own pay for performance analysis Glass Lewis clients have embraced the ability to customize their own analysis for Say on Pay in accordance with their own methodologies using CGLytics' data.
• Leveled the playing field for corporate issuers
With access to the same tools and underlying data as Glass Lewis, corporate issuers can now proactively understand how they are viewed in relation to their peers.
USE THE SAME DATA AND TOOLS AS GLASS LEWIS
Customers can now instantly view the Glass Lewis executive compensation analysis and peer group modeling for planning their Say on Pay agenda via CGLytics. CGLytics and Glass Lewis have established a global partnership to provide unmatched compensation data and analytics for corporates, investors and advisors.
 • Ensure effective engagement, risk oversight and modern governance practices with CGLytics.
 • Instantly view the Glass Lewis CEO and executive remuneration analysis in the CGLytics platform.
 • Use the same data set and analytical tools trusted by Glass Lewis' global research team and featured in the reports used by its institutional investor clients.
 • Self-construct peer groups from an extensive global data set of 5,000+ public companies for benchmarking executive pay
Click here to learn more about CGLytics' boardroom intelligence capabilities and executive remuneration analytics, used by institutional investors, activist investors and advisors.

Latest Industry News, Views & Information
Shareholder Engagement and Corporate Governance Solutions