This article examines GlaxoSmithKline's board expertise and director interlocks both prior and post the appointment of Mr. Jonathan Symonds; replacing Chairman Philip Hampton.
GlaxoSmithKline plc (GSK) announced in December 2018 the merger of its non-prescription drug and parapharmacy activities with those of the American giant Pfizer. The two labs are creating a GBP 10 billion joint venture, which will become the industry leader with GSK holding a majority of the shares – 68% and Pfizer a 32% holding. Within three years however, GSK plans to separate from this new entity and introduce it on the London Stock Exchange, placing Emma Walmsley as the CEO. There will therefore be a demerger project for GSK, aiming at separating their consumer health division (merged with Pfizer's business) from their pharmaceutical and vaccines one. A lot of investors have been asking for this demerger over the past few years, however GSK is still in the middle of a transformation that is not quite complete.
The company intended, since 2015, to recover its Free Cash Flow (FCF) after the expenses arising from the costs of restructuration and integration of the Novartis deal. The company's FCF is recovering quite well, with a GBP 5.7 billion in 2018 (+63% compared to 2017).
In January of this year, the Chairman of GSK, Philip Hampton, announced his decision to step down from his position after three and a half years and declared:
"Following the announcement of our deal with Pfizer and the intended separation of the new consumer business, I believe this is the right moment to step down and allow a new Chair to oversee this process through to its conclusion over the next few years."
GSK announced their decision for a successor of Mr. Hampton, and it appears that Mr. Jonathan Symonds will be taking that role. Both individuals have different backgrounds and expertise. Mr. Symonds brings with him a strong pharmaceutical background together with corporate governance and corporate development experience. He was CFO of Novartis AG from 2009 to 2013 and prior to that CFO of AstraZeneca plc. He has been Deputy Group Chairman at HSBC Holdings plc since August 2018 and its Independent Non-Executive Director since April 2014. During his past experience, he has proven to be an expert of corporate changes. The most important transactions of Novartis (acquisition of Alcon) and AstraZeneca (acquisition of MedImmune) took place under his tenure. The experience Mr. Symonds brings with him added to his international finance knowledge make him a great fit for the upcoming challenges GSK will face.
The board expertise diagrams, produced directly from data and analytics in CGLytics' platform, show GlaxoSmithKline's board expertise matrix before and after Symonds' appointment. The information used for producing CGLytics' expertise and skills matrices in the SaaS offering is standardized and applied consistency to more than 5,500 companies globally for easy comparison, analysis and benchmarking of boards composition.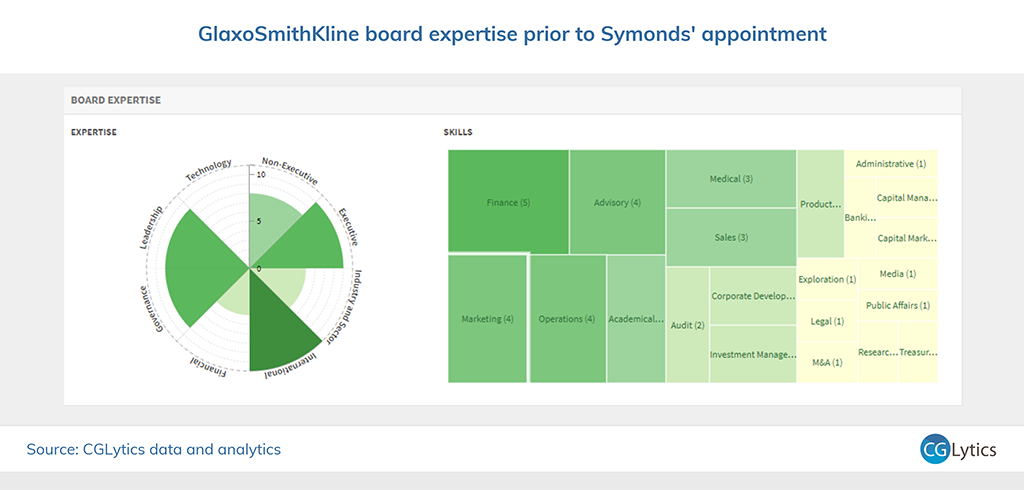 Looking at the current board composition of GlaxoSmithKline, the Board's strongest expertise are International, Governance, Leadership and Executive. The Board however currently has no director with Technology expertise. Five directors, including Sir Philip Hampton, have Financial expertise, having served as Finance Director of BG Group Limited. The Chairman nonetheless lacks Industry expertise which is in line with what market watchers have said.
The chart below displays the company's expertise with the coming of the new Chairman Mr. Symonds. Jonathan also brings with him Non-Executive, Financial, Executive, Governance expertise among others. However, he also brings with him Industry expertise having served as CFO of Novartis AG. With his addition, the board will still lack in the area of Technology expertise.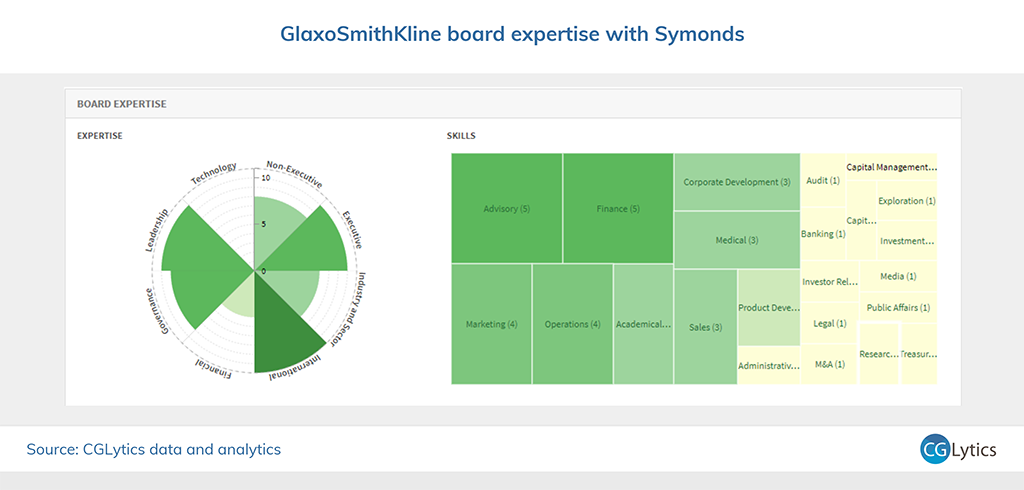 Another interesting insight is that Hampton is not currently sitting on any other company's board, unlike Symonds who is currently sitting on four different boards (including HSBC Holdings plc). One could easily argue about the effectiveness of that choice when it comes to availability and focus/time dedication for the heavy incoming agenda.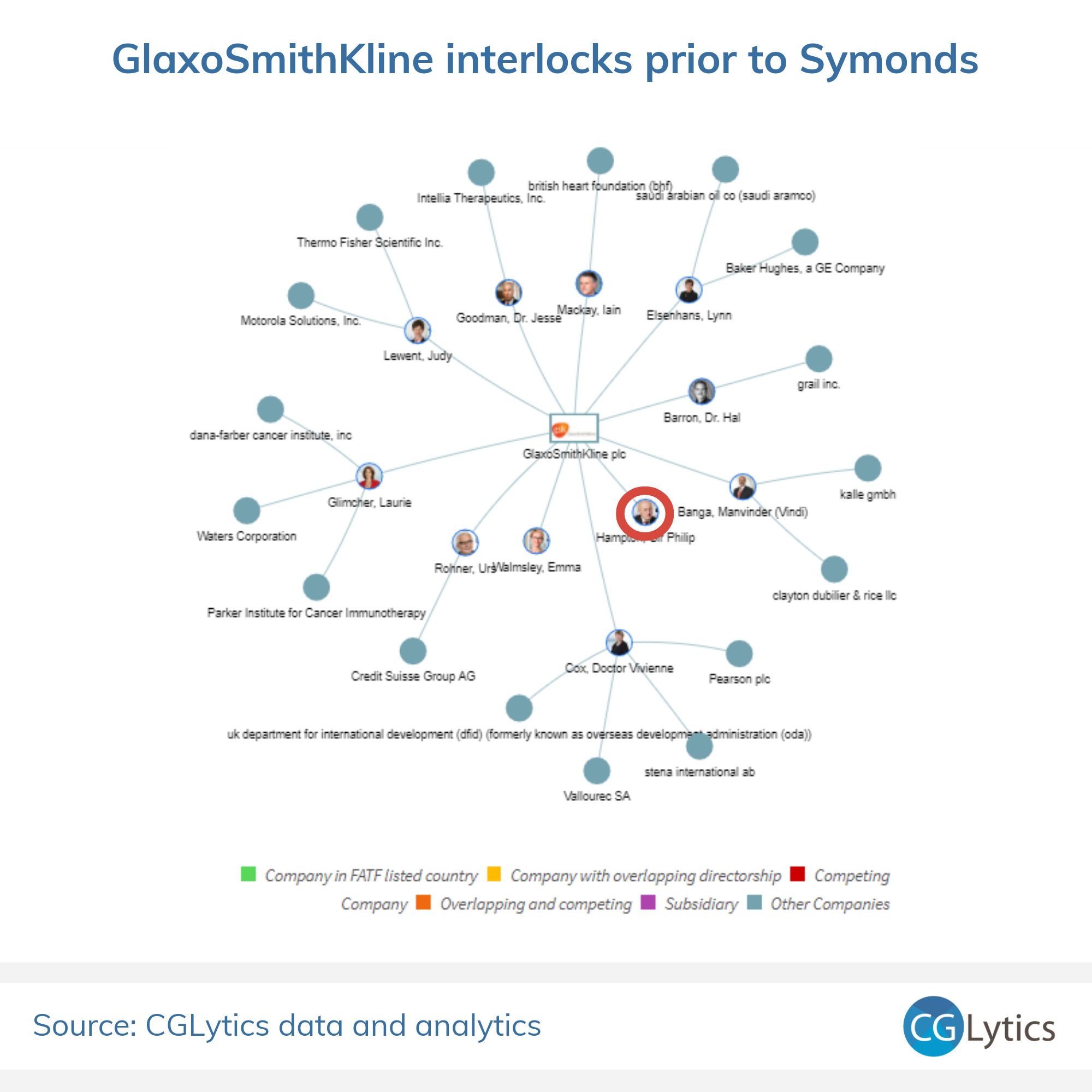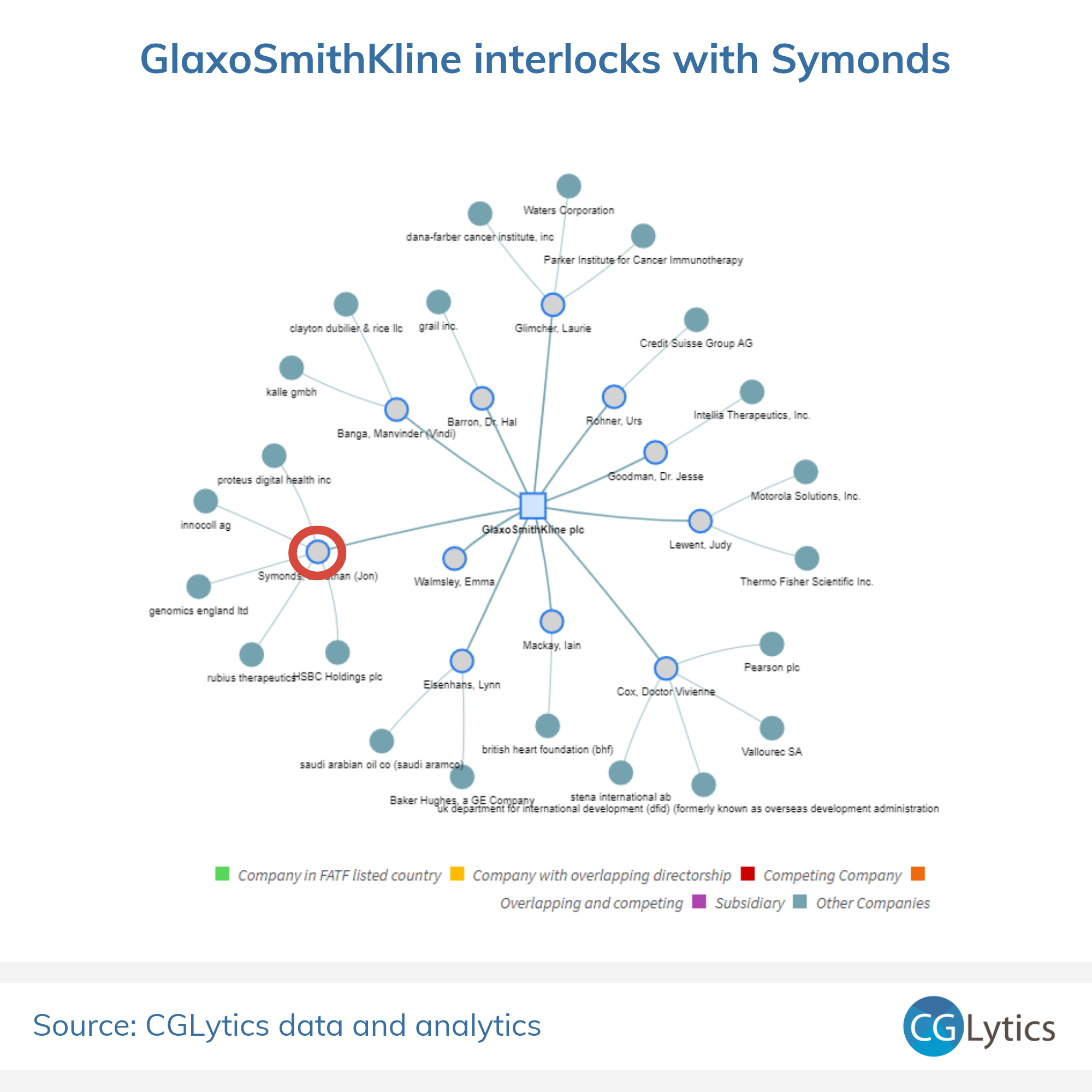 The UK Corporate Governance Code advises:
"Additional external appointments should not be undertaken without prior approval of the board, with the reasons for permitting significant appointments explained in the annual report. Full-time executive directors should not take on more than one non-executive directorship in a FTSE 100 company or other significant appointment."
Glass Lewis, in their UK 2019 Proxy Paper Guidelines, recommends:
"Voting against a director who serves as an executive officer of any public company while serving on a total of more than two public company boards, and any other director who serves on a total of more than five public company boards."
On the other hand, investment management company BlackRock Inc., top shareholder of GSK's capital, shares in their 2019 Proxy Voting Policy document that they would:
"Expect companies to provide a clear explanation in situations where a board candidate is a director serving on more than three other public company boards; or a Chairman serving on more than two other public company boards (or only one if this is an additional chairmanship)."
Finally, the recommendations of GSK's second largest shareholder – asset management group Vanguard – state that:
"A fund will vote against any director who is a Named Executive Officer (NEO) and sits on more than one outside public board."
Additionally,
"A fund will also vote against any director who serves on five or more public company boards."
Mr. Symonds is sitting on one other public company's board (from which he will be stepping down from at the beginning of 2020) and does not hold any executive position, which means that he satisfies the previous recommendations. But at the same time, Symonds remains on the board of three private companies: Proteus Digital Health Inc. (Chairman), Genomics England Limited (Chairman) and Rubius Therapeutics Inc. (Non-Executive Director). Despite the fact that he's satisfying all guidelines, we can question if his agenda will allow him to dedicate the optimal amount of time for all the changes GSK is about to face.
As a conclusion, we can obviously always find a rational explanation to Hampton's resignation and highlight the benefits of Symonds' arrival. But at the end of the day, we must remember everything Hampton has done since joining the company: he has replaced the CEO, has reorganized the Board of Directors and led one of the biggest corporate restructuring projects seen these past years.
What makes this resignation a big event, is that GSK is currently in a timeframe where it needs as much stability as possible on a management level. The massive projects that are being led rely on the company to be extra cautious with its many moving parts. Considering the time needed for the restructuring and demerger to be concluded, we can think Hampton should have ideally stayed until the very end and then recruited a board for each entity.
All the reasons lead to thinking of the possibility of activities being overshadowed to keep investors from worrying. However, GSK has been clear about the fact that Hampton decided to leave once the Pfizer deal was announced. There may never be light over the other possible reasons that pushed Hampton to resign.
For more information regarding how CGLytics' deep, global data set and unparalleled analytical screening tools can potentially help you make better decisions, click here.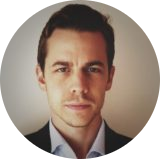 Amine Chehab: European Research Analyst
Amine completed his Master's degree in International Financial Analysis at INSEEC Bordeaux, France. As part of his studies, he also attended the University of California, Riverside as an exchange student. Previously, he gained experience in the field of finance as a Finance Business Analyst and Financial consultant. Most recently he worked as a Credit Manager Assistant.

Latest Industry News, Views & Information
Shareholder Engagement and Corporate Governance Solutions