07.09.2020
After six years of successive losses, CEO Andy Palmer oversaw a return to profit for Aston Martin in 2017. However, failures since its October 2018 Initial Public Offering (IPO) led to board and management changes and revealed how an unbalanced and skill-deficient board led to an overestimation of the company's market appeal.
Background 
Aston Martin, the British luxury car manufacturer whose iconic DB5 model is synonymous with James Bond, has never monetized on its classic brand, with less than 120,000 cars sold in its 107-year history, yet counting seven bankruptcies in the same span.  Andy Palmer was appointed Chief Executive Officer (CEO) in September 2014; determined to turn its fortunes around. He stated at the time: "Aston Martin has always relied on someone stepping in and injecting some more cash and saving it. But that's not the legacy I want to leave".(1)
Second Century & IPO
Mr. Palmer indicated short-term planning caused Aston Martin's previous bankruptcies, as it never generated enough funds from released cars to produce new generation models.(2)
"In the first century we went bankrupt seven times, the second century is about making sure that is not the case…we need to be less dependent on a narrow product ratio and one type of customer…" (3,4)
Aston Martin launched its 'Second Century' in 2015 and planned to revitalize its fortunes by releasing seven cars in seven years, including the DB11, Vantage, Vanquish, and its first all-electric car, the DBX.(5) The DB 11 coupe, the first car of the plan was released in 2016 and was well received, helping push Aston Martins total sales to 5,117 in 2017, its highest in nine years(6) and resulted in profits of EUR 87M, its first profit since 2010.(7)
Given the initial success of the Second Century plan, in August 2018 Aston Martin announced its plan to offer at least 25% of its shares in an Initial Public Offering (IPO), the first of a U.K. carmaker in over three decades.(8) In preparation for its IPO, Aston Martin added multiple directors to the board: former InterContinential Hotels CEO Richard Solomons, former Sainsbury's executive Imelda Walsh, former Deutsche Bank & Deloitte director Peter Espenhahn, and NYU professor Tensie Whelan. Former Coca-Cola executive Penny Hughes was appointed as its first female chairwoman on September 10th, 2018. She was independent on appointment in line with recommendations of the UK Corporate Governance code.
Mr. Palmer described the additions as a "significant milestone in our history and of the successful turnaround of the company."(9) He felt the new directors, would help Aston Martin avoid its past mistakes by fostering a level of governance it previously lacked.(10) Expectations were high for its IPO, Mr. Palmer claimed "unprecedented" interest from investors. Aston Martin estimated its maximum value of over EUR 5 Billion, with shares trading between EUR 18.50 and EUR 20 a share.(11) It expected to sell between 6,200-6,400 cars in 2018, 7,100-7,300 in 2019, and 9,600-9,800 in 2020.(12)
Underwhelming IPO
On October 3, 2018, Aston Martin began trading on the London Stock Exchange under the ticker 'AML' at EUR 19 a share. The debut went poorly, with shares going for as low as EUR 17.75 a share, placing it in the FTSE 250 instead of its intended target of the FTSE 100.
By February 2019, it had lost nearly half its market cap from the IPO and reported an annual loss of EUR 68 Million for fiscal 2018, despite increased total car sales of 6,441 in 2018, due to the EUR 136 Billion it used to secure its listing.(13) Mr. Palmer stated that Aston Martin was only worried about the long-term performance of its stock, but there is reason to question whether its fortunes will improve.
In July 2019, with weak sales for The Vantage, the second model in the 'Second Century' plan, and economic uncertainty surrounding Brexit, Aston Martin revised its 2019 sales forecast to 6,400 cars from 7,300. The market cap of the company fell below EUR 1.5 Billion in August 2019, from its market cap of EUR 4.6 Billion at its IPO.(14) Non-executive director Najeeb Al Humaidhi sold his stake in Aston Martin in August 2019, a damning indictment on the ability of Mr. Palmer and the board to stabilize its finances.(15)
Something amiss in the skills and diversity matrix?
Data reviewed in the CGLytics software platform suggests Aston Martin's board lacked the expertise and necessary independence to properly gauge its market appeal. The Pre-IPO board additions increased the size of Aston Martins board to 14 directors, 5 being independent non-executive directors, with 3 of the 14 directors women.
According to the Division of Responsibilities section of the UK Corporate Governance code Principal G states that:
"the board should include an appropriate combination of executive and non-executive (and in-particular, independent non-executive directors) such that no small group of individuals dominates the board's decision making".
The 11th Provision states that:
"at least half the board, excluding the chair, should be non-executive directors whom the board considers to be independent".(16)
In addition to the UK Corporate Governance code, the Davies Commission stated that by 2020, a third of all directors should be women.(17)
Aston Martin stated its intention to follow all principles and provisions of the UK Governance code and the Davies Commission within a year. Nonetheless, with the 5 independent directors joining the board within a month of its IPO, it is likely that the executive directors and shareholder representing non-executive directors, dominated the board's decision making. With more of a stake in its IPO, they were more inclined to overestimate Aston Martin's market appeal.
Below is a display of Aston Martin's Board Expertise and Diversity on October 3rd, 2018, before its IPO.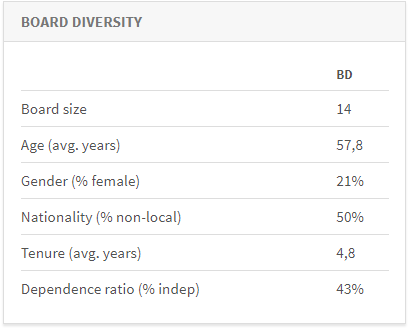 Source: CGLytics Data and Analytics
Reviewing Aston Martins Board Expertise in CGLytics Board Effectiveness tool, of the directors on the board at the time, four had skills in Marketing: Andrew Palmer, Penny Hughes, Peter Rogers, and Matthew Carrington. While seeming sufficient, it should be noted that both Penny Hughes and Matthew Carrington were appointed to Aston Martin's board just a month before its listing, which is not enough time for a director to immerse themselves and significantly contribute in the marketing strategy prior to the IPO. Peter Rogers was a shareholder's representative, who would benefit if the IPO met or exceeded internal valuation; Mr. Palmer, as the chief executive was entitled to share awards up to E3.6m.(18)
The diagram also suggests that there was no director with Technology expertise, which is necessary for most issuers. Additionally, we find that the Board at the time of the IPO also lacked expertise in Governance. It is however interesting to point out that the Board had strong presence in Industry and Sector, Leadership, International, Executive, and Financial expertise.
Lawrence Stroll injects cash in Aston Martin. Management & Board changes begin
Despite Andy Palmer's intention for nobody to save Aston Martin again, in January 2020 with losses mounting, and with no alternative but a substantial investment, Aston Martin sold a 20% stake to a group lead by Lawrence Stroll, who became Executive Chairman in April 2020 as part of the deal. Peter Rodgers passed away in February 2020, Penny Hughes stepped down as Chairwoman on April 7, 2020, and Richard Solomons, Imelda Walsh, and Tensie Whelan, all independent directors appointed before the IPO, declined to stand for re-election.(19) Aston Martin's Chief Financial Officer (CFO), Mark Wilson, departed in April 2020. Mr. Palmer himself, stepped down in May 2020 with shares down over 90% since the IPO.(20)
New Voices, Same Results?
When Aston Martin announced the departure of Andy Palmer, its share price increased by over 40%, a sign the market believes a new CEO will reverse its fortune. Tobias Moers, the current Chief Executive Officer at Mercedes subsidiary AMG was appointed CEO of Aston Martin effective August 1st, 2020.(21) Kenneth Gregor was named the new Chief Financial Officer on June 22nd, 2020.(22)
With a new Executive Chairman, Chief Financial Officer, and Chief Executive Officer, it is reasonable to expect a new direction for Aston Martin, but data suggests Aston Martin may not be better off than before.
Lawrence Stroll, while the owner of Force India's F1 Team and a car enthusiast, has no automotive expertise. Tobias Moers fails to diversify the Board's expertise.
Below is a display of Aston Martin's board expertise effective August 1st, 2020, when new CEO Tobias Moers assumes control: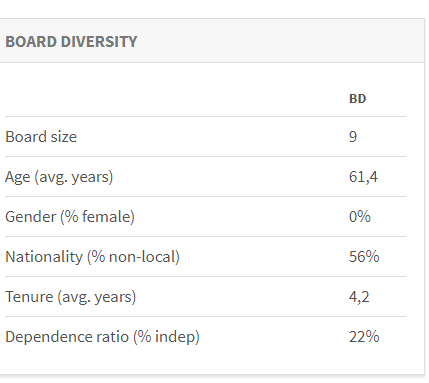 Source: CGLytics Data and Analytics
In this scenario, Aston Martin has 9 directors, only 2 who are independent non-executive directors, a 22% independence ratio, an indication Aston Martin has not yet complied with principles and provisions of the UK Corporate Governance code. In August 2020, when the new CEO takes his position, the independence ratio will further drop to 20%. One thing that can also be missed is the lack of gender balance on Aston Martin's Board. There is currently no female on the Board, Aston Martin is further away from meeting the recommendations of the Davies Commission than before its IPO.
On the expertise and skills side, although the board still has its independent marketing expert in Matthew Carrington, the imbalance between the groups of directors makes it unlikely he will sway the board.
With the new Board, we see a significant drop in their Leadership, Financial, International, Executive, Industry and Sector Expertise. The company still has no Director with Technology and Governance expertise; skills necessary to steer company's affairs in the right direction.
Aston Martin's choice to go public may ultimately have been ill-advised. While initially allowing it to raise cash, an IPO was always going to lock Aston Martin into certain financial performance metrics, that given its historical struggles, it was unlikely to meet, despite the initial upturn in fortune under Andy Palmer. Independent non-executive directors with less at stake are more likely to recognize and raise red flags, reducing risk and providing greater corporate governance.
How can Aston Martin improve their corporate governance and gain oversight of their board effectiveness going forward? CGLytics governance data and analytics tools provides the board composition analysis companies, investors and service provides need, now and in the future, to reduce risk and ensure company success.
Interested to see how your company stacks up against 5,900 globally listed companies' governance practices including their CEO Pay for Performance, board composition, diversity, expertise and skills?
Click here to contact CGLytics and learn about the governance tools available and currently used by institutional investors, activist investors and leading proxy advisor Glass Lewis for recommendations in their proxy papers.
References:
[1] Hotten, R. (2015, March 5). Aston Martin battles to reinvent itself. BBC News. https://www.bbc.com/news/business-31727799
[2] Padgett, M. (2016, March 7). Aston Martin promises 7 cars in 7 years–and profits. Motor Authority. https://www.motorauthority.com/news/1102701_aston-martin-promises-seven-cars-in-seven-years–and-profits
[3] Hotten, R. (2015, March 5). Aston Martin battles to reinvent itself. BBC News. https://www.bbc.com/news/business-31727799
[4] Aston CEO calls crossover, daimler deal keys to revival. (2015, April 9). Automotive News Europe. https://europe.autonews.com/article/20150409/ANE/150409991/aston-ceo-calls-crossover-daimler-deal-keys-to-revival
[5] Hotten, R. (2015, March 5). Aston Martin battles to reinvent itself. BBC News. https://www.bbc.com/news/business-31727799
[6] Tsui, C. (2018, January 4). Aston Martin reports record sales, sold more than 5,000 cars in 2017. The Drive. https://www.thedrive.com/article/17370/aston-martin-reports-record-sales-sold-more-than-5000-cars-in-2017
[7] Aston Martin roars back into the Black. (2018, February 26). BBC News. https://www.bbc.com/news/business-43204733
[8] Publication of Reg document & H1 2018 results – 06:03:04 29 Aug 2018 – News article | London stock exchange. (2018, August 29). London Stock ExchangeLondon Stock Exchange. https://www.londonstockexchange.com/news-article/market-news/publication-of-reg-document-amp-h1-2018-results/13770626
[9] Neate, R. (2018, September 25). Aston Martin names first female chair as it prepares for £5bn float. the Guardian. https://www.theguardian.com/business/2018/sep/10/aston-martin-chair-float-penny-hughes
[10] Aston Martin bolsters board as luxury carmaker prepares for IPO. (2018, September 10). Financial Times. https://www.ft.com/content/0c35df58-b4c9-11e8-bbc3-ccd7de085ffe
[11] Ipo. (n.d.). astonmartinlagonda.com. https://www.astonmartinlagonda.com/investors/ipo
[12] Publication of Reg document & H1 2018 results – 06:03:04 29 Aug 2018 – News article | London stock exchange. (2018, August 29). London Stock ExchangeLondon Stock Exchange. https://www.londonstockexchange.com/news-article/market-news/publication-of-reg-document-amp-h1-2018-results/13770626
[13] Kollewe, J. (2020, February 3). Aston Martin shares crash as it reveals £136m IPO costs. the Guardian. https://www.theguardian.com/business/2019/feb/28/aston-martin-sets-aside-30m-for-brexit-as-revenues-rise
[14] Kollewe, J. (2019, November 7). Aston Martin blames tough European market for £13.5m loss. the Guardian. https://www.theguardian.com/business/2019/nov/07/aston-martin-blames-tough-european-market-for-135m-loss
[15] Aston Martin takes another hit as director sells $33 million stake. (n.d.). Driven. https://www.driven.co.nz/news/aston-martin-takes-another-hit-as-director-sells-33-million-stake/
[16] The UK Corporate Governance Code. (2018). Financial Reporting Council. https://www.frc.org.uk/getattachment/88bd8c45-50ea-4841-95b0-d2f4f48069a2/2018-UK-Corporate-Governance-Code-FINAL.pdf
[17] Aston Martin bolsters board as luxury carmaker prepares for IPO. (2018, September 10). Financial Times. https://www.ft.com/content/0c35df58-b4c9-11e8-bbc3-ccd7de085ffe
[18] Monaghan, A. (2018, September 25). Aston Martin boss in line for £7.2m package as £5.1bn float unveiled. the Guardian. https://www.theguardian.com/business/2018/sep/20/not-a-bond-aston-martin-to-float-shares-on-stock-market
[19] Aston Martin drives through board changes after £104m loss. (2020, February 27). Accountancy Daily. https://www.accountancydaily.co/aston-martin-drives-through-board-changes-after-ps104m-loss
[20] Ziady, H. (2020, May 26). Aston Martin replaces CEO Andy Palmer with Mercedes-AMG chief. CNN. https://www.cnn.com/2020/05/26/business/aston-martin-new-ceo/index.html
[21] Ziady, H. (2020, May 26). Aston Martin replaces CEO Andy Palmer with Mercedes-AMG chief. CNN. https://www.cnn.com/2020/05/26/business/aston-martin-new-ceo/index.html
[22] Appointment of chief financial officer – 07:00:02 22 Jun 2020 – AML news article | London stock exchange. (2020, June 22). London Stock ExchangeLondon Stock Exchange. https://www.londonstockexchange.com/news-article/AML/appointment-of-chief-financial-officer/14586003

Latest Industry News, Views & Information
Shareholder Engagement and Corporate Governance Solutions