Ralph Lauren Corporation, a global leader of premium lifestyle products, is scheduled to hold its 2019 Annual General Meeting of Shareholders (AGM) on August 1, 2019. Shareholders attending the AGM will vote on the following resolutions:
The election of 4 directors to serve until the 2020 Annual General Meeting of Shareholders;
The ratification of the appointment of Ernst & Young LLP as the Company's independent registered public accounting firm for the fiscal year ending March 28, 2020;
The approval, on an advisory basis, the compensation of the Company's named executive officers and the Company's compensation philosophy, policies, and practices;
The adoption of the Company's 2019 Long-Term Stock Incentive Plan.
Election of Directors:
Ralph Lauren has two classes of directors, Class A and Class B. At the upcoming AGM, four Class A directors will be proposed for election: Frank A. Bennack, Joel L. Fleishman, Michael A. George, and Hubert Joly. We note that in 2018, Ralph Lauren increased the size of its Board with the appointment of three new directors, namely Michael A. George, Angela Ahrendts, and Linda Findley Kozlowski, ostensibly to expand the Board's "diversity of skills and experiences". These three directors bring to the Board Leadership, Executive, and Industry/Sector expertise, with Michael A. George and Linda Findley Kozlowski being active CEOs in two retail companies and Angela Ahrendts being a former executive of Apple, Burberry Group plc and Kate Spade & Company. In terms of skills, the three individuals bring about Marketing, Sales and Operations knowledge. Nevertheless, the Board still appears to lack Technology and Financial expertise.
However, in addition to the diversity of skills that the addition of the new directors has brought to the board, the company also now maintains a gender diversity level of 50%, well above the market standard for the United States.

Source: CGLytics Data and Analytics
Executive Compensation:
The third resolution in the agenda is a shareholders' advisory vote to approve the Company's executive compensation.
After the Founder, Ralph Lauren, stepped down from his position as CEO, Ralph Lauren has gone through two CEO changes, with Stefan Larsson serving from November 2015 to May 2017, and Patrice Louvet serving since July 2017. As can be seen from the absolute comparison chart generated by CGLytics' Pay for Performance module, there appears to be a misalignment between CEO compensation and one-year total shareholder return between 2008 and 2015. However, it appears that this misalignment has reduced since Mr. Lauren left the position of CEO. Furthermore, we also see that the total realized compensation for the CEO thereafter has been reduced significantly.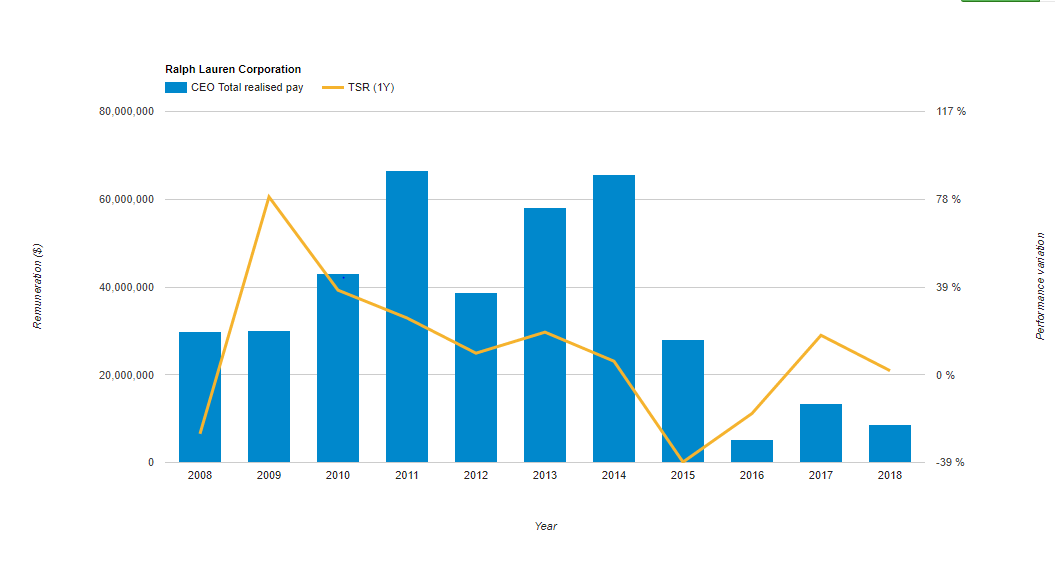 Source: CGLytics' P4P Modeler
CEO Compensation Package Breakdown
Historically, the CEO's compensation package has primarily focused on his STI opportunity (between 2009 and 2012). However, since then, the CEOs compensation package breakdown has shifted towards long-terms incentives, which now form a greater component of the CEO's compensation package.
Additionally, in 2017 the performance measures of LTI grants shifted from 3-year Cumulative Operating Margin and Operating Margin to 3-year Cumulative Return on Invested Capital (ROIC) and 3-year Relative Total Shareholder Return (TSR) in 2018. Ralph Lauren also added Global digital revenue as a new measure for STI grants, a modifying KPI that could result in an "adjustment of bonuses upwards or downwards by 10%."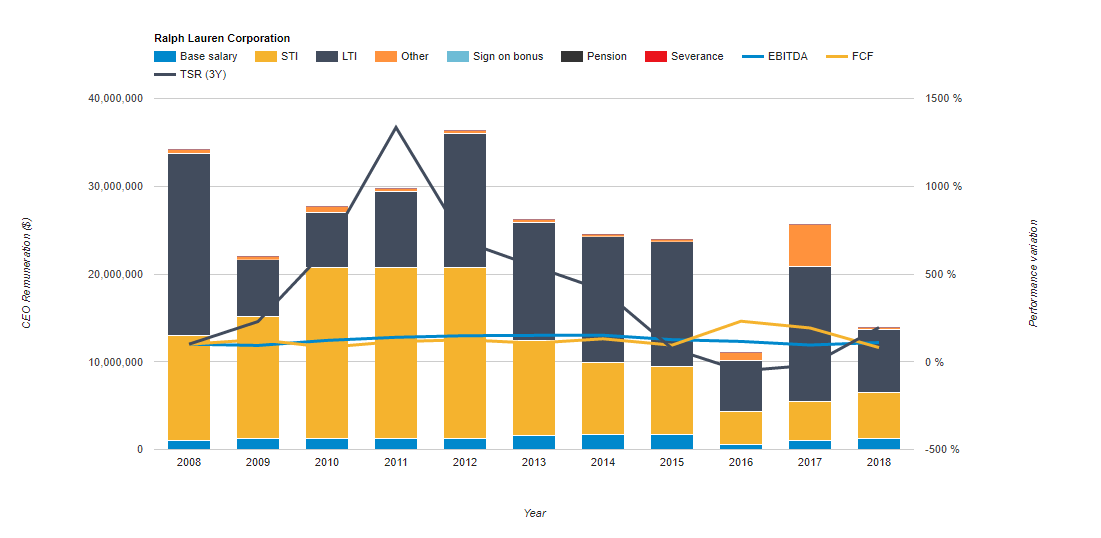 Source: CGLytics' P4P Modeler
Relative Positioning
In comparison to Ralph Lauren's own disclosed peer goup, the Company's CEO pay appears now to be line with its peers. Additionally, when reviewing the company's relative positioning among its peers, there also appears to be a pay for performance alignment between Ralph Lauren's 3-year TSR and compensation paid to its CEO.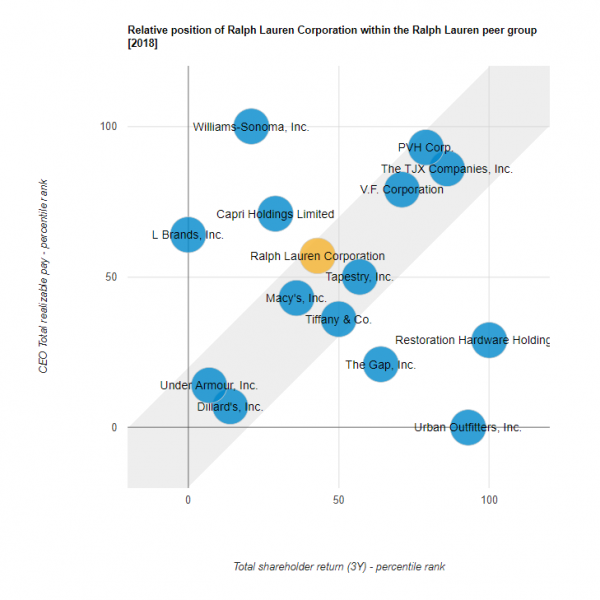 Source: CGLytics' P4P Modeler
Ralph Lauren also proposes adopting a 2019 Long-Term Stock Incentive Plan, under which the Company awards equity compensation to executive officers, to replace the current Ralph Lauren Corporation 2010 Amended and Restated Long-Term Stock Incentive Plan. Under the new plan, LTI awards will be determined based on 3-year Cumulative Return on Invested Capital (ROIC) and 3-year Relative Total Shareholder Return (TSR).
Overall, we find that although the company has seen shifts in executive leadership over the past few years after Mr. Lauren left the reigns of the company to his successor, we also find that the company's executive compensation programs have fallen more in line with market norms, correcting a former pay for performance misalignment that extended under Mr. Lauren's leadership.
To learn how companies can become proactive and support modern governance decision-making, with access to the same insights as activist investors and proxy advisors, click here.
Sources
CGLYTICS DATA AND ANALYTICS   RALPH LAUREN 2019 PROXY STATEMENT

Latest Industry News, Views & Information
Shareholder Engagement and Corporate Governance Solutions