Debenhams is a well-known British multinational retailer which operates primarily through its numerous department stores in the United Kingdom and Ireland with franchise stores in other countries. The company was founded in the eighteenth century as a single store in London. On April 9, 2019, Debenhams went into a pre-pack administration deal in which the company was handed over to hedge fund lenders. As a result, equity holders like SportsDirect, the company's biggest shareholder, saw their value wiped out.
Timeline of a Potential Takeover
In January 2014, Mike Ashley surprised the market by acquiring a 4.63% stake in the then struggling retailer. Despite the value of his equity dropping by 8% in January 2015, Ashley increased his stake in the company to 21% in August 2017. Two months later in October Debenhams announced that their profit dropped 44%. This decrease was largely due to the costs incurred from the implementation of a new turnaround strategy. In January 2018, the woes of the company continued when they issued a shock profit warning after weak Christmas sales and a failure to entice shoppers with cut-price goods. The market responded, and the company's share price decreased by as much as 20%, wiping almost GBP 70m off its market value. In March 2018, Mike Ashley increased his stake to 29.7%. The move sparked takeover conjecture as a stake of more than 30% requires the launch a formal takeover bid.
Debenhams announced another profit warning in June 2018 (the third in a row for the year 2018) and then announced plans to shut down up to 50 of its of its under-performing stores over the next three to five years, putting around 4,000 jobs at risk.
With this turn of events, then-CEO Sergio Bucher and Chairman Ian Cheshire would be forced to step down from their respective offices following an activist campaign led by Michael Ashley. At the company's AGM on December 10, 2018, the CEO had only 44.15% of support for his re-election, while the re-election of the Chairman received a similarly low level of support at 43%. The Board however asked Sergio to stay on as CEO but not as a director, serving as a blow to shareholders expectations.  In response Ashley launched a formal takeover bid which was designed to install himself as Debenham's CEO. Most interestingly, his efforts were warded off by bondholders who handed the firm a GBP 40m lifeline. The overdraft facility from its banks and bondholders proved useful to pay its onerous quarterly rent bill and give it some much needed breathing space.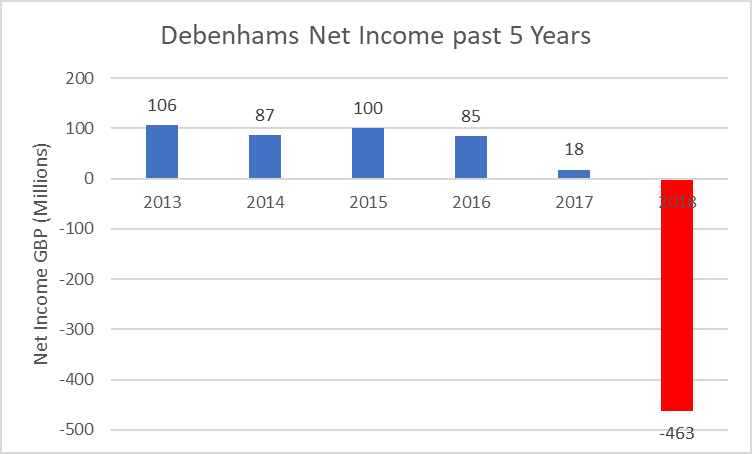 Financials sourced from CGLytics performance data
The company and its directors went into advanced talks with its lenders over a GBP 150m bailout, as a move to fend off Ashley's offers. SportsDirect offered Debenhams an alternate GBP 150m deal if the fashion house would issue five percent of new shares to the company and appoint Mr. Ashley as director and CEO.
The company however rejected the deal, putting itself into administration on April 9, 2019.
Possible reasons for entry into administration
Lack of a clear strategy: Debenhams had about 165 stores in the United Kingdom, a seemingly large number at a time when its sales were falling and costs were rising. The company had previously outlined plans to close 10 loss-making stores within five years as its finances continued to deteriorate. Increasing consumer preference for online shopping also dealt a huge blow to the company's overall strategy.
Aging Product Line: The retailer is best known for the Designers at Debenhams collections created over the past two decades by designers including Jasper Conran and Julien Macdonald. Some brands, including Betty Jackson, have been discontinued because they had become dated; however, replacement fashion ranges have so far lacked pulling power as shoppers take a cautious approach to spending as the uncertainty created by Brexit continued. Other factors that led to the Company's demise include being outsmarted by more agile competitors, failure to embrace change, and their tarnished brand image. This naturally raises the questions of how and why the company's business strategy was allowed to deteriorate to such a detrimental degree.
Conflicts of Interest on Board: Utilizing CGlytics interlocks tool, it can be noted that before the shareholder rebellion at the 2018 AGM that witnessed significant opposition against the CEO and Chairman, there were two independent directors who sat on the boards of companies in competition with Debenhams. These individuals included Ian Cheshire and David Adams. Cheshire serves as the current chairman of Maisons Du Monde while David Adams also remains the current Senior Independent Director of Halfords Group Plc.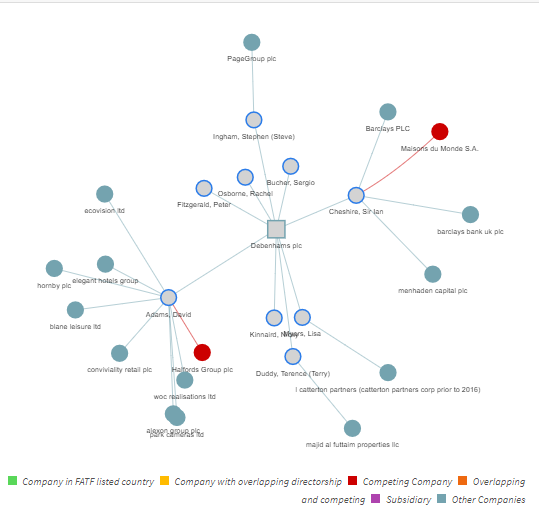 Source: CGLytics Data and Analytics
Using the skills matrix functionality available on the CGLytics platform, we see that in December 2018, the majority of company directors lacked Technology expertise. Only one member of the Board out of nine members held technology expertise. This reaffirms the previous notion that the company has failed to catch up with market trends, especially when tracking changes in consumer preference has become so heavily reliant on technology. Moreover, board members with key positions such as the Chairman, CEO, and the Senior Independent Director all lacked financial expertise, potentially suggesting that the company's top leadership were unable to provide sufficient oversight of the company's accounting procedures and financial health.

Source: CGLytics Data and Analytics
Lessons Learnt
The fall of Debenhams has shed light on how having the right skills set on the board can influence the strategy and ultimate direction and of a company. Corporate boards increasingly require a broader range of analytical tools to identify the skills gap of their members, potential overboarding and competing directorships. For more information regarding how CGLytics' deep, global data set and unparalleled analytical screening tools can potentially help you identify these areas of risk, click here.
Sources:
CGLYTICS DATA AND ANALYTICS  FT  MSN
Latest Industry News, Views & Information
Shareholder Engagement and Corporate Governance Solutions